The dining room is definitely the heart of the house, a place for gathering and sharing great food and great company. The dining table can often be a very large piece of furniture, whether it is in a separate dining room or an open plan kitchen, the table occupies a great deal of the space and can end up swallowing the room. It important to choose carefully. Go for a style that elevates your space and provides a touch of luxury for your mealtimes.
The above Verge dinign table is perhaps one of the most popular of our ranges. A smooth black walnut top featuring tapered edges and a gleaming finish, with sleek and structured solid wood legs.
The white leather Waltz chairs contrast beautifully with the strong dark lines of the table. To go for a more playful approach, they also look wonderfull in bright contrasting colours.
For those looking for something smaller, the below Hanna table is for you, very popular with small london flats or open plan appartments. Available in two stunning marble options this table is designed around a central column and will make your space seem bigger, whilst adding a touch of elegance.
If you don't have a dining table in your home, and prefer to eat around a breakfast bar, fear not you can still dine in comfort with Camerich's new bar stools! Another new addition to our range, the beautiful Ballet chairs are already a firm favourite. Available in both bar or counter height these can definitely cater to all!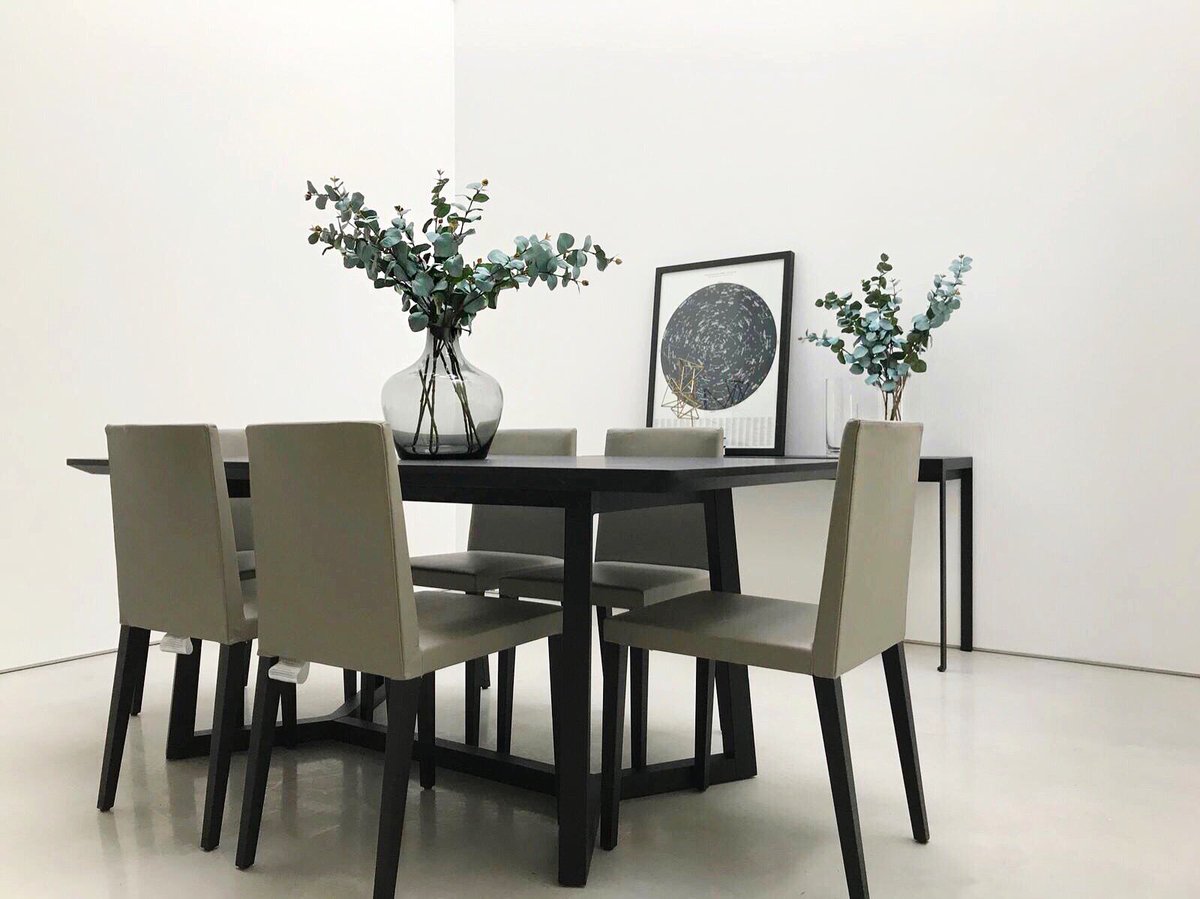 To keep the space interesting avoid having an excess of dark furniture which can look clunky. Instead go for chairs upholstered in leather or fabric. Stick to neutral colours to give the illusion of more space. The chairs can still be tied in to match the table by opting for the same finish on the leg.
If you are looking for a round table, but don't want to compromise on seating space, the Unity is deifinitely for you. This beautiful piece combines smooth curves with a strong statement base which is wrapped in supple faux black leather.
Brand new to our range is the fabulous Joint dining table, above. This piece stands proud upon a unique angled leg design ensuring it's presence is sculpturally stunning from every angle, slip tapered legs allow for maximum seating space. Lovingly created with a Grey Oak veneer this table offers sophisticated elegance as well as modern versatility.
Written By Imogen Abbot
https://i.pinimg.com/736x/ea/a8/7c/eaa87cf31dedd9f9b62eb01c96785e5c--penthouse-apartment-penthouses.jpg
https://i.pinimg.com/originals/fd/94/2b/fd942b83dd0741595c7cea12c569d36a.jpg
https://pbs.twimg.com/media/DohJR2oX0AAIpV3.jpg
https://i.pinimg.com/236x/68/57/a9/6857a9dda7731c00a0f80e8f80be3b71--architecture-awards-dining-rooms.jpg
https://www.henriliving.com.au/media/products/CAMERICH/DINING-TABLES/Vessel/_gallery/HEN-camerich-dining_table-vessel-7.jpg
https://scontent-lhr3-1.xx.fbcdn.net/v/t31.0-8/fr/cp0/e15/q65/28516144_1533048233473136_3819831079701255304_o.jpg?_nc_cat=103&_nc_ht=scontent-lhr3-1.xx&oh=a7918bf8e4f8e6fa36716be05fd3fd22&oe=5C4D2EA5