A great starting point to create layers with your furniture are coffee tables. The Vary Coffee Table range offers a variety of sizes and heights, perfect in creating different levels. The Vary range offers different finishes which also helps to creates a nice juxtaposition between textures. For example this coffee table is available both Brown Walnut, White Carrara Marble and Imperial Green Marble.
The Harmon Side table can be personalized to the table finish, leather finish and additional storage. With its simple and contemporary aesthetics, this piece can be featured anywhere in the house.
The Era Range is a great away to explore Layers with your furniture. This range also offers a layered table in any leather finishes you wish. However, you can also opt to buy one table unit at a time, as the tables are sold separately. Each Coffee table perfectly slots within each other, enabling you to created more space.
The season of layers has approached! As well as the number of clothing layers has increased, we can create layers with our furniture.
Camerich Furniture has a great variety of matching and complimentary pieces, which help bring your space together.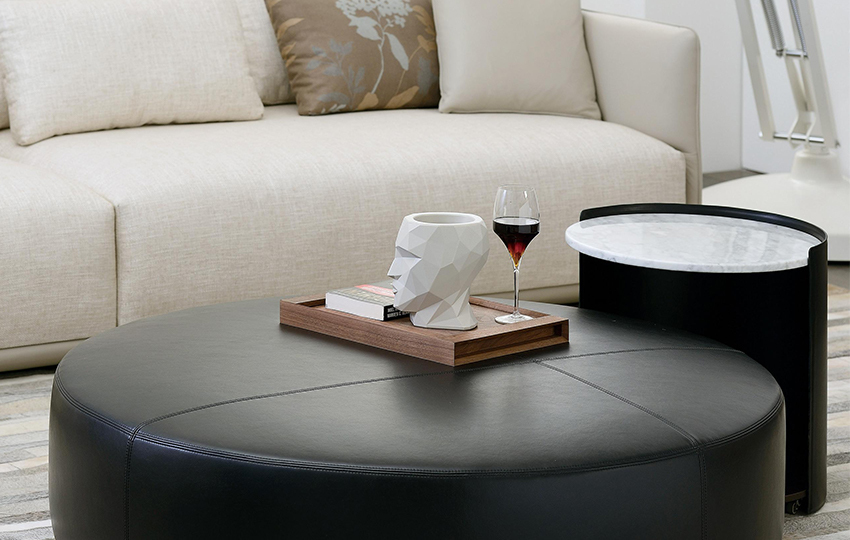 In the image above you can see the Harmon Side table is also a great way to creates different layers, with wheels attached at the bottom of the table it allows you move the side table to anywhere you wish. As displayed, the Harmon can be placed above our the Harmon Footstool or even a sofa if you wish.
The Hanna Side table is also a very simple but with an intricate design, due to its interesting geometry. Similarly to the Vary range, the Hanna also comes in two different heights, sizes and two marble finishes: White Carrara Marble and Brown Mystique.
This is a display example we have in our West End Showroom; we also offer console table which can really help add a stylish finish to your sofa composition. The Console table is also available in any leather finishes, which you can also have matching with the coffee table
Written By Marian N'ze
http://en.camerich.com/content/details_42_3864.html
https://camerichusa.com/product/vary-table/
http://alchemycollections.com/brands/camerich/
https://forwardfeatures.net/2017/04/20/designer-furniture-for-the-home-with-camerich/
https://www.twipu.com/Camerich/tweet/1150808134950293504
https://forwardfeatures.net/2017/04/20/designer-furniture-for-the-home-with-camerich/
N'ze, MSN, 2019, Era Console and Coffee Table, London
https://camerich.co.uk/swatch-request/
https://camerich.co.uk/swatch-request/
https://camerich.co.uk/swatch-request/